Guards Expert Witnesses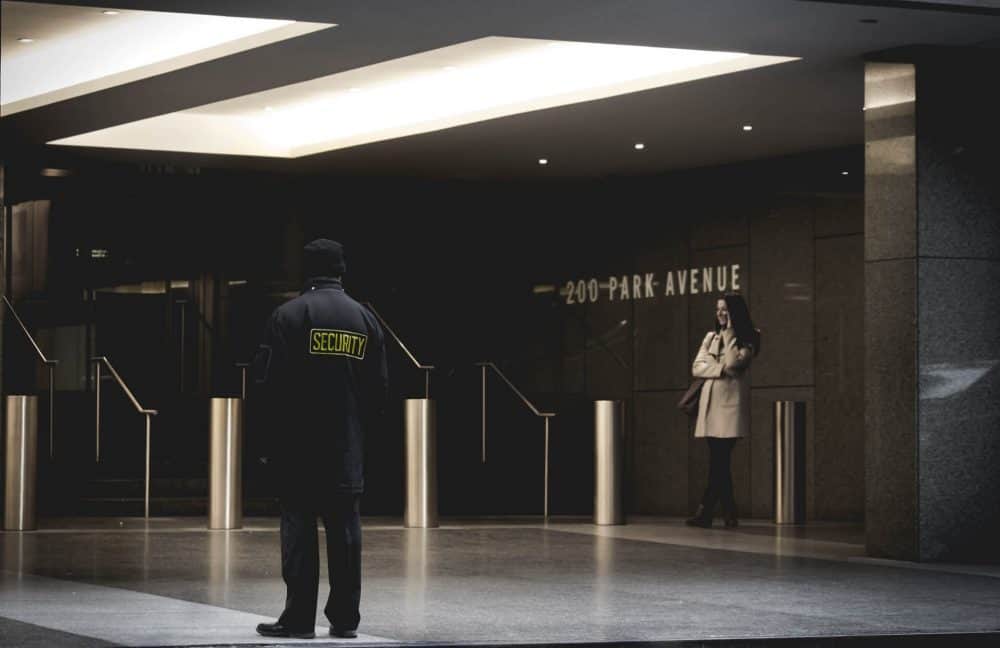 Guard expert witness candidates typically have backgrounds in law enforcement, public safety, military duties, and/or have worked as a security guard. In addition to expertise, a guards expert witness should feel comfortable explaining evidence to a judge and jury. In a high-profile case, or litigation involving a significant financial stake, a law firm may request a security officer subject matter expert with prior expert testimony experience. The chosen expert may be a member of an industry organization such as the National Association of Security Companies (NASCO), Private Security Professionals of America (PSPA), the Security Industry Association (SIC), the International Association of Professional Security Consultants (IAPSC), or ASIS International.
A security officer's role is to protect a client (person or premise) from hazards, loss prevention, and crime. Security officers, or guards, are required to go through state mandated training in order to carry weapons like firearms and pepper spray. Litigation support by a guards expert witness could include a security assessment, an expert report, expert opinion, and trial testimony. Attorney clients may also utilize a security guard specialist for pre-litigation consulting work.
Representing the plaintiff or defendant, Cahn Litigation Services is frequently called upon by law firm clients to locate expert witnesses that can support security guard matters. Whether the case involves premises liability, security guard training, crime prevention, workplace violence, negligent security, loss prevention, excessive force or a standard security procedure, Cahn Litigation Services has the experience required to turn a search for an expert witness around quickly. The firm has an earned reputation for providing expert candidates with the right balance of expertise and testimony to support each unique project and its nuances.
Related Disciplines
Guards Expert Witness - Representative Bios
Please Note: All Cahn Litigation expert witness searches are customized to attorneys' precise specifications and preferences. Attorneys are encouraged to discuss search parameters with a Cahn search specialist.
The below expert witness bios represent a small fraction of those Guards experts known by Cahn Litigation Services. These bios are provided to give lawyers a sense of the Guards landscape.
Expert Witness #260768

This expert is a noted premises security and workplace violence consultant. This expert began a career as a police officer and has a been Security Director, before opening a consulting firm. This expert provides clients with in-depth evaluations of incidents of workplace violence as well as plans for training and violence prevention.

This expert has been retained by attorneys in cases of:

-

the use of force by guards

-

not following the conventional force continuum

-

the use excessive force

and retained and testified regarding:

-

the omissions of security guards

-

guard company's adherence to and following of state regulations

-

special police and proprietary guard actions


in addition to being retained:

-

to defend guard businesses and company security guards who are accused of negligent acts or behaviors

-

in cases where the placement of an armed guard is the question, and whether an armed guard was placed into a business or company after evaluating the risks and needs of the assignment

-

in many cases where the issue involves the training and background investigations by a guard company

-

where the marketing truthfulness of the guard enterprise when providing a proposal to a client is a central issue


Start Guards Expert Search

Expert Witness #262578

This expert brings to the table many years of security and workplace management experience, specializing in security and workplace violence. This expert has assessed and developed workplace violence programs for dozens of organizations and has been brought in as a consultant following over 30 active shooter incidents. This expert spent half a career managing contract security guards as owner/manager of a security guard firm and this expert has also advised many consulting clients on retaining and managing contract security firms.

This expert has been board certified as a Certified Protection Professional (CPP), is certified as a Certified Security Consultant (CSC), is involved in the International Security Management Association (ISMA) and the International Association of Professional Security Consultants (IAPSC).

This expert is a member of the Society for Human Resource Management (SHRM), The International Association for Healthcare Security and Safety (IAHSS), the American College of Healthcare Executives (ACHE) and is a member of ASIS International.

This expert has extensive prior litigation experience including multiple depositions and a few trials, some involving contract security officers.


Start Guards Expert Search